Solo exhibition
Noplace, Oslo, Norway
17.10.20 – 01.11.20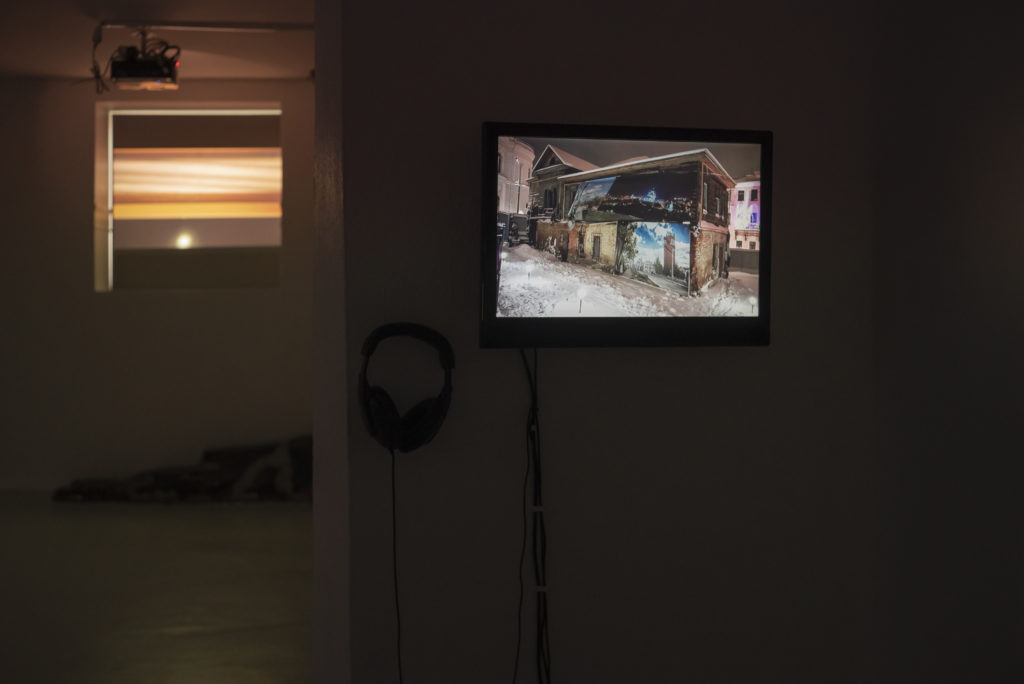 In the short hypnotising videos of Glafira Severianova, an anthropocentric reality steps back to give the stage to non-human objects and energies, claustrophobic landscapes and spaces, and rhythmically arranged time flows as the main protagonists. If appearing in the frame, human figures are merely shadows or ghosts, captured in repetitive motion along circular paths. "Video ergo sum" – an old spell by the video pioneers – no longer functions the way we knew it: the ability to see, register and shoot doesn´t vouch for one´s existence and definitely doesn´t place the holder of the camera into the center of the universe. Sharing the artist´s fleeting glance through the lens we are but passers-by, stumbling over ambiguous, unstable signs of the distant presence of people.
A flickering, glitchy reflection of cars rushing by, wrecked buildings precariously covered by decorative banners, creaky singing utility poles… Severianova´s videos are quick, but sharp sketches grasping patterns and ornaments that echo somebody´s hypothetical, ephemeral life, the life itself omitted from the shots. Many of the artist´s works are built with material from her extensive video collection – images and scenes filmed over the years for different everyday purposes and with wildy varying qualities.
The piece that gives its title to the exhibition, 1991, combines footage of zombie-like movement through closed and open spaces with haunting sounds and a voicelessly told story. Based on a true event, the video also references the historical happenings of August 1991 – a failed attempt to overthrow USSR premier Mikhael Gorbachev known as the August Coup. Regardless of any anchoring in realism, the video's near allegorical characters and intrusive visuality leave the viewer with a sense of absurdity and obscure detachment. The narrator loses her agency to remember and represent her own life to the omnipresent ever-watching authorities… or perhaps to a domain of all-knowing ghosts – an association giving this video, as well as the entire exhibition, the power to induce an occultic vertigo.
The moon, appropriating a song played over the radio, is getting its own voice. The perpetual darkness, punctured by artificial light, is screwing up the horizon and turning it upside down. The snowy roads are collapsing in on themselves. Across Severianova's body of work, playful confusion and intuitive, uneven movement fill up the shots, turning the artist's observations into an ongoing enchanting dance, which is dragging you in.
Maria Rusinovskaya